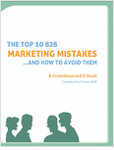 The Top 10 B2B Marketing Mistakes...And How to Avoid Them, Free DH Communications eBook
A crowd-sourced eBook lead by Dianna Huff and Mac McIntosh. They asked their respective networks to submit the top ten B2B marketing mistakes they see other marketers making. From email to social media, people expressed their opinions – and often quite passionately!
Are the results surprising? Yes and no. You can find reams of blog posts, reports, articles, etc. full of how-to-do-it-right information. Yet, despite all of this information, you can still find many B2B Websites that aren't optimized and companies that throw their unqualified "leads" at sales. Long story short, we all know marketing for B2B has changed. However, the principles underlying great marketing – that is, marketing that gets results ("Show me the money, honey!") – have not.


Request your Free Subscriptions Now.
Together with
TradePub.com
we offer you free industry magazines, white papers, webinars, podcasts, and more. No coupons, credit cards, special codes, or purchases are necessary. Publications are entirely FREE to those who qualify. Select from the offers listed or click below to browse our full library of available titles.
Browse our extensive list of over 600+ publications - offered for free.