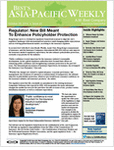 BestWeek Asia/Pacific Insurance Newsletter, Free BestWeek Asia/Pacific Insurance Newsletter eNewsletter Subscription
Delivers the latest insurance news from the Asia/Pacific delivered straight to your inbox every week from A.M. Best Company, a worldwide rating and information agency with more than 100 years of experience covering the insurance industry.
:

BestWeek Asia/Pacific offers:
Articles covering the latest insurance news in the Asia/Pacific region
Excerpts from Best's Special Reports, for in-depth analysis of larger industry issues
The latest Best's Credit Ratings
Stock indices tracking the region's activity
Video news wrap-ups
Audio interviews with key figures in the insurance industry


Let me know how you feel about the content in the newsletter!

Drop me a comment with the words "good read" or "junk".





Request your Free Subscriptions Now.
Together with
TradePub.com
we offer you free industry magazines, white papers, webinars, podcasts, and more. No coupons, credit cards, special codes, or purchases are necessary. Publications are entirely FREE to those who qualify. Select from the offers listed or click below to browse our full library of available titles.
Browse our extensive list of over 600+ publications - offered for free.