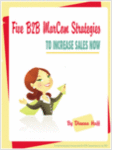 Five B2B MarCom Strategies to Increase Sales Now - Free eBook, Free DH Communications eBook

YouTube. Twitter. Blogs. Podcasts. White Papers. Search. Direct Mail. Trade shows. Webinars. Networking. TV commercials. Prints ads. LinkedIn. Facebook. Digg.
To say that marketing today is fractured and fragmented is a total understatement. Where are people (our customers and prospects) congregating? How do we reach them? What works? What doesn't? Does it make sense to run ads in trade publications? No wait, maybe we should dump all our money into search. But wait, some gurus are still advocating direct mail and white papers. What's a marketing professional to do?

Five B2B MarCom Strategies to Increase Sales Now won't help you decide the best channel for disseminating your messages, but it will help you with strategy. That's because no matter what the communication channel, the strategies for developing messages and campaigns that resonate with buyers and customers have remained the same:

Understand your target market
Determine your campaign objectives before you start writing
Integrate online and offline tactics
Build your Website around what Buyers and Prospects want
Focus on your Customer, not on your company
These strategies aren't rocket science but in today's fragmented marketing world, they're often forgotten in the rush to get a campaign out the door.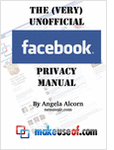 The (VERY) Unofficial Guide To Facebook Privacy, Free Makeuseof.com Guide
To fully understand the privacy of Facebook and how it's likely to evolve, you need to understand one thing...Facebook executives want everyone to be public.


As the service evolves, executives tend to favor our open access to information, meaning information you think is private will slowly become public, but that doesn't mean you can be private if you want to. Facebook gives its users the option to lock things down, but users need to be aware of their controls, how to use them and how to prepare for future Facebook privacy changes. Facebook has not and will not make information obvious, and that's where this guide comes in. With this free guide you will also receive daily updates on new cool websites and programs in your email for free courtesy of MakeUseOf.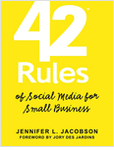 42 Rules of Social Media, Free Happy About eBook Excerpt
42 Rules of Social Media for Small Business' is the modern survival guide to effective social media communications and the answer to the question, "what do I do with social media?"

Written by communications professional Jennifer Jacobson, this book is designed to help working professionals find social media that fits their business and get the most out of their social media presence. From networking communication, to social branding, '42 Rules of Social Media for Small Business' addresses specific rules of engagement, as well as the fundamental approach to online, as opposed to traditional, media. As part of the 42 Rules series, this book is designed to quickly and effectively equip business professionals with the tools they need to generate an effective customer community through social media, that translates into customer loyalty, excitement for the brand, and return business that eventually generates a dedicated customer base and increased revenue. '42 Rules of Social Media for Small Business' demystifies social media and teaches readers why social media is important to their business and how they can maximize their social media effectiveness.

Prepared by Super Star Press; Sponsored by Super Star Press