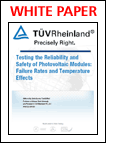 Testing the Reliability and Safety of Photovoltaic Modules: Failure Rates and Temperature Effects, Free TUV Rheinland White Paper
This white paper reveals the results of failure rates in the qualification of flat-plate modules and the temperature test results on over 140 modules compared to data obtained on actual rooftop Photovoltaic modules.
Photovoltaic modules are designed to meet the reliability and safety requirements of national and international test standards. Qualification testing is a short-duration (typically, 60-90 days) accelerated testing protocol, and it may be considered as a minimum requirement to undertake reliability testing. The goal of qualification testing is to identify the initial short-term reliability issues in the field, while the qualification testing/certification is primarily driven by marketplace requirements. Safety testing, however, is a regulatory requirement where the modules are assessed for the prevention of electrical shock, fire hazards, and personal injury due to electrical, mechanical, and environmental stresses in the field. This paper examines recent reliability and safety studies conducted at TÜV Rheinland PTL's solar module testing facility in Arizona.


Request your Free Subscriptions Now.
Together with
TradePub.com
we offer you free industry magazines, white papers, webinars, podcasts, and more. No coupons, credit cards, special codes, or purchases are necessary. Publications are entirely FREE to those who qualify. Select from the offers listed or click below to browse our full library of available titles.
Browse our extensive list of over 600+ publications - offered for free.