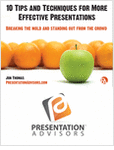 10 Tips And Techniques For More Effective Presentations, Free Presentation Advisors Tips
Breaking the mold and standing out from the crowd.
Why present? Or better yet, why learn how to present well? Simply put, because your life is one big presentation. You are presenting all the time, and many people's lives have been defined by presentations. Promotions have been made or missed. Deals are won or lost. An election was just won due largely to one candidate being a far better presenter. It's an important skill, a skill most people wish they had. We've all been there - sitting through an excruciatingly boring, dry, scripted presentation with nothing to look at on the screen except bullet points, full sentences and lowsy clip-art. Making it even worse, the presenter has made no effort to keep you interested, help you understand the material, or create anything worth looking at. You're in hell, and you're counting down the minutes until you can leave – but it doesn't have to be that way.

You can save your audience. You can become a vibrant, effective presenter whose passion and message gets through to each and every audience member. This does not address just those who present to vast conference halls, but also (and most importantly) those presenting to their colleagues in a cramped, double-booked meeting room.

Take a look at 10 tips that can make you a more effective presenter.


Request your Free Subscriptions Now.
Together with
TradePub.com
we offer you free industry magazines, white papers, webinars, podcasts, and more. No coupons, credit cards, special codes, or purchases are necessary. Publications are entirely FREE to those who qualify. Select from the offers listed or click below to browse our full library of available titles.
Browse our extensive list of over 600+ publications - offered for free.