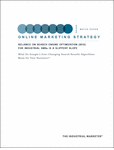 Reliance on Search Engine Optimization for Industrial SMBs is a Slippery Slope, Free ThomasNet White Paper
What do Google's ever-changing search results algorithms mean for your industrial business?
Google makes over 350 algorithm changes every year. With 97% of industrial buyers beginning their OEM, MRO and services purchasing process online, it is critical for SMB industrial companies to learn how to adapt their online marketing strategy--including their website, search engine marketing and search engine optimization--to minimize risks and maximize opportunities. This white paper will
Explain the 4 major Google algorithm changes since April 2010.
Outline their impact to search results delivered on Google.
Review the implications of these changes to industrial businesses who promote themselves online.
Provide recommendations for succeeding in the ever-changing world of online search.
If you've built a marketing strategy that relies on ranking high on the search results pages of Google, this white paper is a must-read.
Publisher: ThomasNet
Request your Free Subscriptions Now.
Together with
TradePub.com
we offer you free industry magazines, white papers, webinars, podcasts, and more. No coupons, credit cards, special codes, or purchases are necessary. Publications are entirely FREE to those who qualify. Select from the offers listed or click below to browse our full library of available titles.
Browse our extensive list of over 600+ publications - offered for free.