Brewing in China, Free Brewing in China Subscription Subscription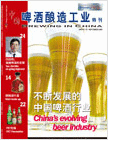 Industrial & Manufacturing
Facilitates technology transfer by providing readers, in bilingual English and Simplified Chinese, the latest developments in brewing processing and packaging technologies, trends and industry developments throughout China and Asia, with practical solutions for improving productivity, reducing cost, and turning innovations into real competitive advantages.
Published 3x a year in Chinese and English, Brewing in China reaches manufacturing decision makers who plan the purchase of machinery, materials and execute manufacturing strategies, and plant managers who evaluate and make recommendations, as well as R&D staffs, scientists who create, test and evaluate products.
Request your Free Subscriptions Now.
Together with
TradePub.com
we offer you free industry magazines, white papers, webinars, podcasts, and more. No coupons, credit cards, special codes, or purchases are necessary. Publications are entirely FREE to those who qualify. Select from the offers listed or click below to browse our full library of available titles.
Browse our extensive list of over 600+ publications - offered for free.