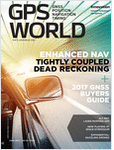 GPS World, Free GPS World Digital Subscription Subscription
Telecom & Wireless
Is the PREMIER global media brand serving the exploding world of positioning and navigation for OEM, commercial and consumer applications.
GPS World Industry leaders look to GPS World for continuous innovation in delivery of the freshest, most comprehensive GPS/GNSS-related news to high-level corporate managers, project and engineering managers, product designers, researchers, and system developers.
Publisher: Questex Media
Request your Free Subscriptions Now.
Together with
TradePub.com
we offer you free industry magazines, white papers, webinars, podcasts, and more. No coupons, credit cards, special codes, or purchases are necessary. Publications are entirely FREE to those who qualify. Select from the offers listed or click below to browse our full library of available titles.
Browse our extensive list of over 600+ publications - offered for free.