T.H.E. Journal, Free T.H.E. Journal Digital Subscription Subscription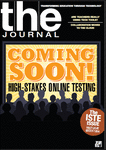 Education
Provides K-12 education technology news, updates on the latest technology products and uses, and discover what your colleagues are doing to solve the same IT education problems you face everyday in this free digital subscription of T.H.E. Journal.
Each issue of T.H.E. Journal contains news, trends, and "how-to" features with topics covering networking, security, policy and advocacy, telecom, hardware/software, the smart classroom, mobile computing and wireless, eLearning, technology funding, professional development, technology support--all the important issues for administration and teaching. Sign up now and receive this digital subscription free.
Request your Free Subscriptions Now.
Together with
TradePub.com
we offer you free industry magazines, white papers, webinars, podcasts, and more. No coupons, credit cards, special codes, or purchases are necessary. Publications are entirely FREE to those who qualify. Select from the offers listed or click below to browse our full library of available titles.
Browse our extensive list of over 600+ publications - offered for free.