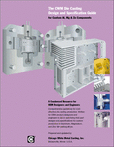 The Chicago White Metal Die Casting Design and Specification Guide, Free Chicago White Metal Casting Guide
Engineering
Get more for your money by understanding how die cast designs and specs affect cost.
Have a project that calls for die casting in aluminum, magnesium or zinc? Then it's critical to understand how the choices you make upfront can affect your bottom line. Register for this guide to learn:
How to match your material to the strength and durability needs of your part
What types of dies can improve production rates –– and even eliminate the need for costly post-cast machining
What you can do to reduce part porosity
And much more!
You can't afford to miss this essential die cast design guide!
Publisher: Chicago White Metal Casting