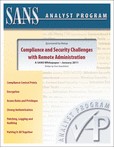 Compliance and Security Challenges with Remote Administration, Free Netop White Paper
IT - Security
Is your organization at risk for security breaches? Security expert Dave Shackleford from the SANS Institute describes how to meet the security challenges of remote access software, as well as ways to use roles and privileges, authentication, encryption, patching and logging to achieve a compliant remote access program.
In this whitepaper a SANS security analyst describes how to identify the security risks associated with remote administration tools and how to deal with the requirements of regulatory compliance.
Compliance Control Points
Encryption
Access Roles and Privileges
Strong Authentication
Patching, Logging and Auditing
Putting It All Together
Publisher: Netop
Request your Free Subscriptions Now.
Together with
TradePub.com
we offer you free industry magazines, white papers, webinars, podcasts, and more. No coupons, credit cards, special codes, or purchases are necessary. Publications are entirely FREE to those who qualify. Select from the offers listed or click below to browse our full library of available titles.
Browse our extensive list of over 600+ publications - offered for free.