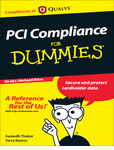 PCI Compliance for Dummies, Free Qualys, Inc. eBook
Get the facts on PCI Compliance and learn how to comply with the PCI Data Security standard.


Complying with the PCI Data Security Standard may seem like a daunting task for merchants. This book is a quick guide to understanding how to protect cardholder data and comply with the requirements of PCI - from surveying the standard's requirements to detailing steps for verifying compliance.

PCI Compliance for Dummies arms you with the facts, in plain English, and shows you how to achieve PCI Compliance. In this book you will discover:

What the Payment Card Industry Data Security Standard (PCI DSS) is all about
The 12 Requirements of the PCI Standard
How to comply with PCI
10 Best-Practices for PCI Compliance
How QualysGuard PCI simplifies PCI compliance
Request your Free Subscriptions Now.
Together with
TradePub.com
we offer you free industry magazines, white papers, webinars, podcasts, and more. No coupons, credit cards, special codes, or purchases are necessary. Publications are entirely FREE to those who qualify. Select from the offers listed or click below to browse our full library of available titles.
Browse our extensive list of over 600+ publications - offered for free.