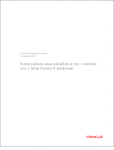 Nube Privada Para Plataforma Como Servicio con Oracle Fusion Middleware, Free Oracle Corporation White Paper
Evoluciona con este fantástico fenómeno de la computación en nube.

Las oportunidades de mejorar el rendimiento y la eficacia de TI mediante la centralización de recursos aumentaron drásticamente en los últimos años gracias a la maduración de tecnologías, como las arquitecturas SOA, la virtualización, la computación en mallas (grid computing) y la automatización administrativa. Como consecuencia natural, surgió lo que cada vez más se conoce como "computación en nube" (cloud computing), en la que un consumidor de capacidades computacionales las establece o usa "en la nube" (es decir, a través de una red) en forma de autoservicio, sin que tenga participación directa en cómo se obtienen esas capacidades.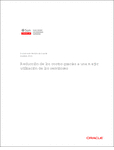 Reducción de los Costos Gracias a una Mejor Utilización de los Servidores, Free Oracle Corporation White Paper
Debido a que las organizaciones de IT soportan prioridades comerciales que cambian dinámicamente y enfrentan presiones económicas, es fundamental mantener la agilidad del centro de datos.

Al consolidar los sistemas con la última tecnología de servidores y aprovechar las técnicas de virtualización, las empresas pueden optimizar la eficiencia del centro de datos, obtener flexibilidad y reducir los costos operativos, sin sacrificar el rendimiento ni perjudicar los niveles de servicio.


Request your Free Subscriptions Now.
Together with
TradePub.com
we offer you free industry magazines, white papers, webinars, podcasts, and more. No coupons, credit cards, special codes, or purchases are necessary. Publications are entirely FREE to those who qualify. Select from the offers listed or click below to browse our full library of available titles.
Browse our extensive list of over 600+ publications - offered for free.