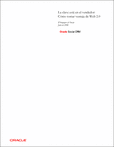 La clave está en el vendedor: Cómo tomar ventaja de Web 2.0, Free Oracle Corporation White Paper
Este documento examina los desafíos que enfrentan los vendedores, la creciente tendencia de la Web 2.0 en la empresa, y los factores principales para una nueva generación de aplicaciones sociales que complementan los sistemas tradicionales de CRM para ayudar a los vendedores cerrar más contratos y mucho mas rápido.


Asi cómo las aplicaciones Web 2.0 Twitter y Facebook han cambiado la forma en las que personas se comunican e interactúan dentro de las redes sociales personales, los vendedores necesitan aplicaciones comparables que faciliten la colaboración dentro de las redes sociales de la empresa y de esa manera aumentar su eficacia en las ventas. Los vendedores necesitan aplicaciones que funcionen de la manera mas simpley asi aumentar su eficacia en las actividades fundamentales de trabajo diario.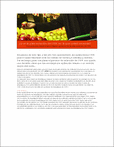 ¿Qué Implementación de CRM es la que Usted Necesita?, Free Oracle Corporation White Paper
Una Guía para Elegir Entre Múltiples Opciones de Implementación de CRM.


Empresas de todo tipo y tamaño han aprovechado las aplicaciones CRM para mejorar drásticamente los niveles de ventas, marketing y servicio. Sin embargo, para completar el proceso de selección de CRM aún queda una decisión clave que tomar: elegir una aplicación interna o un servicio según demanda.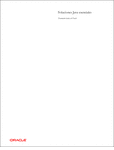 Soluciones Java Esenciales, Free Oracle Corporation White Paper
Ahora los clientes pueden obtener los beneficios de una infraestructura basada en Java, que incluye una mayor productividad de desarrollo, menos defectos, un núcleo probado y cumplimiento de las normas.

Se traspasaron las barreras tecnológicas que una vez impidieron que las empresas adopten enfoques basados en Java en aplicaciones esenciales con necesidades de computación extremas y previsibles. Los últimos avances en toda la pila Java colocan a Java en una posición con la capacidad de impulsar la próxima generación de computación empresarial.


Request your Free Subscriptions Now.
Together with
TradePub.com
we offer you free industry magazines, white papers, webinars, podcasts, and more. No coupons, credit cards, special codes, or purchases are necessary. Publications are entirely FREE to those who qualify. Select from the offers listed or click below to browse our full library of available titles.
Browse our extensive list of over 600+ publications - offered for free.