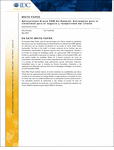 Aplicaciones Oracle CRM on Demand: Opciones para la visión comercial y respuesta al cliente, Free Oracle Corporation White Paper
Este documento analiza los beneficios que las organizaciones pueden obtener al desplegar aplicaciones CRM on Demand dentro de la función de ventas.

La función de ventas representa "los pies en la calle" que son directamente responsables de generar ingresos para las organizaciones. Debido a su modelo de entrega de despliegue rápido, las aplicaciones de CRM on Demand han abierto las puertas a la funcionalidad de CRM a este grupo de manera que responde a las necesidades diarias de los vendedores y los requisitos empresariales de las organizaciones. Este documento también describe lo que Oracle puede ofrecer a las organizaciones en búsqueda de soluciones CRM para las ventas, a través de un mecanismo de ejecución flexible. Este documento tambien incluye un estudio de casos de clientes. Ademas incluye la visión proporcionada por un participanteanónimo de una compañía de publicación grande donde se explora el proceso de decisión, el uso del producto y los beneficios obtenidos a traves del uso de Oracle CRM On Demand.


Request your Free Subscriptions Now.
Together with
TradePub.com
we offer you free industry magazines, white papers, webinars, podcasts, and more. No coupons, credit cards, special codes, or purchases are necessary. Publications are entirely FREE to those who qualify. Select from the offers listed or click below to browse our full library of available titles.
Browse our extensive list of over 600+ publications - offered for free.