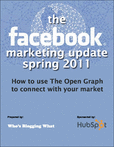 The Facebook Marketing Update - Spring 2011, Free HubSpot, Inc. eBook
"The Facebook Marketing Update - Spring 2011"
Learn how to use The Open Graph to connect with your market, and more.
With approximately 600 million users Facebook is the center of the social media universe. It's also a treasure trove for marketers - provided you know how to make the most out of its plentiful opportunities. Prepared by Who's Blogging What and written by marketing professionals who practice what they preach, The Facebook Marketing Update - Spring 2011 will show you how to:
Optimize the Like button and the Open Graph to improve engagement
Use iFrames for custom Facebook page content
Optimize the Facebook page for search
Create a contest that will accomplish almost any conversion goal
Use Facebook Connect for ecommerce
Make the most out of Facebook Places and Deals
Take advantage of the significant upgrade to Facebook Comments plug-in
Apply best practices to advertising on Facebook
Request your Free Subscriptions Now.
Together with
TradePub.com
we offer you free industry magazines, white papers, webinars, podcasts, and more. No coupons, credit cards, special codes, or purchases are necessary. Publications are entirely FREE to those who qualify. Select from the offers listed or click below to browse our full library of available titles.
Browse our extensive list of over 600+ publications - offered for free.