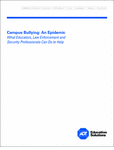 Campus Bullying: An Epidemic, Free ADT White Paper
Changes on campus and on school buses can help reduce the number of bullying incidences.
Long Description: Over 33% of teens and 44% of middle schoolers report bullying problems while in school. Most students cite bathrooms, hallways, lunchrooms, stairwells, schoolyards, and classrooms as the places where bullying was most likely to occur. But as security options increase, there are some simple, but effective ways, to reduce the incidence of bullying. This paper explores:
The educator's role in controlling bullying
Options available to security to tackle this problem effectively
What law enforcement and the legislator can do to make a difference
This white paper explores current trends in bullying on campus, the statistics, and different ways students, parents, administrators, law enforcement and security can work together to prevent bullying and keep campuses safer.


Request your Free Subscriptions Now.
Together with
TradePub.com
we offer you free industry magazines, white papers, webinars, podcasts, and more. No coupons, credit cards, special codes, or purchases are necessary. Publications are entirely FREE to those who qualify. Select from the offers listed or click below to browse our full library of available titles.
Browse our extensive list of over 600+ publications - offered for free.